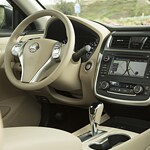 If mid-size sedans are your vehicle of choice, you're sure to love the latest edition of the popular Nissan Altima. This model has been a favorite of drivers in Hempstead, NY and across the country for decades, and it's time that you took one out for a test drive to see what makes it so popular.
The Altima's passenger cabin features luxurious seating for up to five adults as well as ample storage for all of your personal gear. Additional cargo space in excess of 15 cubic feet can also be found in the large, well-configured trunk.
The front dash and console are laid out for the convenience of the driver and front passenger. Navigation, entertainment, messaging, and more are available at the touch of a screen, and dual climate controls ensure interior comfort regardless of the temperature outside.